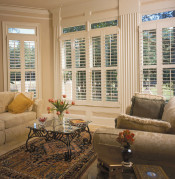 Real Wood Plantation Shutters
Beautiful. Elegant. Sophisticated. Wood plantation shutters provide both practical window coverings and a luxurious appearance for your home. And when you come to Yocum Shutters and Blinds, you can get the top-quality, wood indoor window shutters you want at a price that won't break the bank. Our window treatment specialists work hard to ensure you get top-notch real wood plantation shutters, but unlike other window shade and blind stores, we also work to provide you with fair, affordable pricing on all of our window coverings. So if you're in the market for plantation shutters, Yocum Shutters and Blinds is here to help. Call today to schedule your free in-home consultation!
Like window blinds, indoor wood shutters can help manage lighting levels and increase privacy for your home. However, unlike most horizontal blinds, wood plantation shutters offer myriad other advantages, including:
Energy-efficiency: Because wood is a natural insulator, genuine solid wood shutters can help keep the heat out in the summer and in during the winter. Plantation shutters combine the benefits of wood with a unique frame-filling design, helping minimize your energy loss and maximize your savings!
Return on investment: By far, indoor wood shutters achieve the greatest return on investment. That's because home buyers love plantation shutters as much as homeowners. So when you go to sell your home—be it tomorrow or years from now—interior wooden shutters will provide you with the greatest return on investment of just about any window covering on the market.
Beauty: Simply put, solid wood shutters are fine furnishings for your windows. A beautiful addition to any room, choosing wood plantation shutters for your bedroom, living room, or any other room can help add style and elegance to both casual and formal decor alike.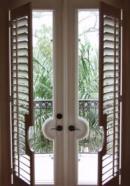 If these benefits sound great to you, give us a call. Yocum Shutters and Blinds is ready to help you find the very best real wood plantation shutters for your home and your needs. Our team has over 60 years of experience helping area customers get the indoor shutters they've always wanted, so if you need interior window shutters, we're here to provide assistance in any way we can. Yocum Shutters and Blinds offers convenient in-home consultations at no charge, so our experts can come right to your door to provide info, color swatches, and other samples of how indoor window shutters will look in your space. We're here to bring you the information you need to make an educated decision about choosing real wood plantation shutters for your home: from answering questions to taking accurate measurements to providing comprehensive estimates, Yocum Shutters and Blinds is ready to bring you the best in customer service as well as the best in affordable, quality interior wooden shutters!
And don't forget, plantation shutters can be customized to practically any window in any home. Yocum Shutters and Blinds offers custom wood shutters for specialty window sizes, and we even offer shaped solid wood shutters for those hard-to-cover accent windows. That means whether you have arched transoms, hexagonal accents, or uniquely sized windows, our professionals can make certain you get beautiful custom wood plantation shutters that fit your windows perfectly. With our great prices and full-range of interior wooden shutter options, Yocum Shutters and Blinds is the window shade, blind, and shutter store to call when you want the very best in plantation shutters in Philadelphia.